Integrity through dedicated Carrier refrigeration units, accessories and services
Carrier Transicold is helping its customers meet the requirements of these guidelines by recommending a suite of products and services that are ideally suited to this task.
The company proposes a range of high-power units for these applications, including Vector™ 1950, Vector 1950 MT and Vector 1550 units for trailers; Supra™ 1250, 1250 MT and Supra 850, 850 MT systems for rigid trucks; Pulsor™ range in single and multi-temperature options for light commercial vehicles.
These high-performance refrigeration units enable fleets to equip any commercial vehicle with proven systems for their specific application, from the smallest van to the largest truck-trailer unit.
Carrier Transicold recommends combining its units with a suite of accessories to help customers meet their requirements for product integrity. These include devices such as DataCOLD™ 600, which records temperatures throughout the journey, and the COLDTrans™ system, for real-time temperature tracking online. Units can also be fitted with sensors that notify the driver if the fuel tank runs low to protect against unexpected system shutdown.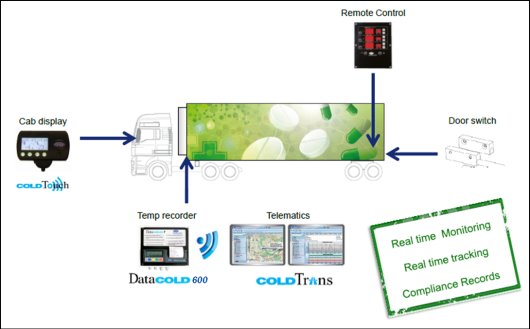 All this can be combined with comprehensive after-sales support, including oneCALL™ 24/7 assistance, everCOLD™ repair and preventive maintenance contracts, annual temperature sensor calibration and access to more than 600 service centres and 2,000 technicians across Europe, the Middle East and Africa.
Carrier Transicold also provides access to cold chain visibility solutions and consultancy services that enable customers to track, monitor and protect the quality and integrity of temperature-sensitive products across complex supply chains. This service, including thermal mapping of the vehicle, is available through Sensitech Inc., a part of Carrier Global Corporation.