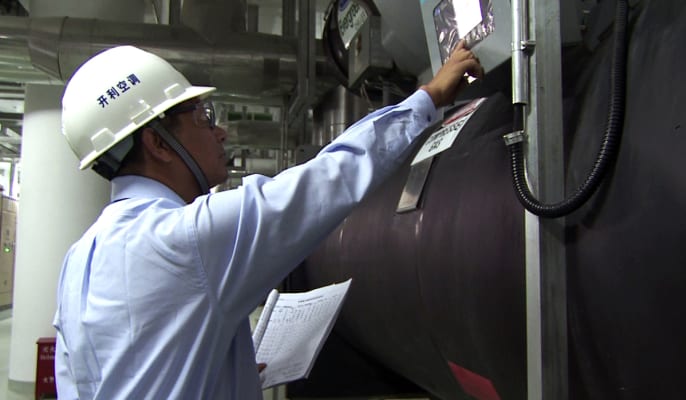 SERVICE FROM THE EXPERTS.
Get the HVAC service and support you need, exactly when you need it.
Whether you're an engineer, contractor, architect, manager or owner, you can count on Carrier's expertise and superior service offerings to help you get the most from your HVAC system from start-up through the entire lifecycle.
Installation
With superior quality and performance, the decision to partner with Carrier for building solutions is an easy one. Carrier provides installation services needed for optimal performance.
Commission
Carrier commissioning services are performed by trained experts. Each has access to the latest training, tools and information direct from Carrier . We go through a pre-start-up checklist and provide you with basic onsite operating training to familiarize you with your solution. Plus, once the commission is finished, we provide you with operations and maintenance manuals and collect all necessary customer information to keep you connected with Carrier.
Standard Maintenance
Through our standard service offerings, Carrier provides a range of maintenance services to make consistent performance and comfort easy and worry-free. Basic maintenance includes operating inspections, annual preventive maintenance and some diagnostic services.
Prognostic Maintenance
The best strategy for ensuring maximum performance of an HVAC system is to solve issues before they happen. Our expert technicians leverage the latest and best testing tools and technologies to help find, identify and correct minor problems inexpensively, before they lead to more complex and expensive repairs, helping you avoid unexpected issues while controlling energy costs. Services include:
Thermographic testing
Vibration analysis
Chiller tube chemical cleaning
Retrofit
As the performance and comfort needs of a building change over time, it's normal for elements of your HVAC system to become obsolete. With help from the experts at Carrier, however, it may not be necessary to install all new equipment in order to modernize your system and keep pace with new requirements.
In many cases, we can help you avoid large capital expenditures through strategic retrofits and upgrades including:
Chiller variable speed drive retrofits
Control panel upgrades
Controls system add-on from chiller plant  management  to building management system
Heat exchanger tube replacement
Chiller plant health check
Chiller plant modernization
Totaline® Parts Centers
Carrier Totaline provides a unique one-stop shop and supplies best-quality air conditioning and refrigeration parts to meet your needs – whether you're performing installation, maintenance or repair.