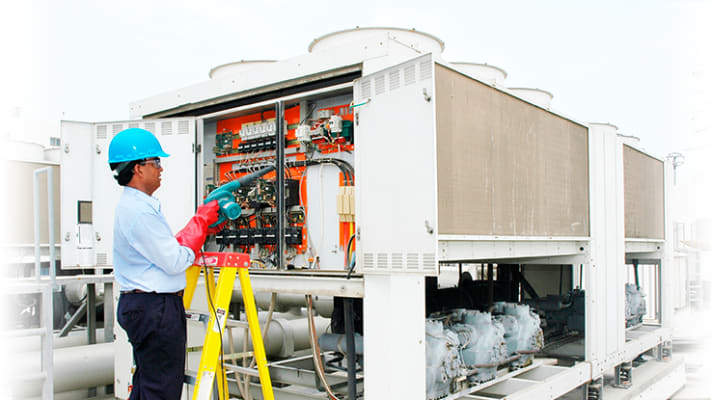 TURN TO THE EXPERTS.
Get the HVAC service and support you need, exactly when you need it. Whether you're an engineer, contractor, architect, manager or owner, you can count on Carrier's expertise and superior service offerings to help you get the most from your HVAC system from start-up through the entire lifecycle.
Ensuring your equipment's peak performance and longevity dictates a commitment to preventive, predictive and proactive maintenance programs. Safeguarding your equipment by choosing Carrier brings the security of having forged a true partnership with the HVAC industry's foremost servicing and technology leader. At Carrier, we partner with building owners and managers to keep your system running at its best, with customized service plans designed to meet all your specific equipment and operational needs year-round. We service all brands and types of HVAC units.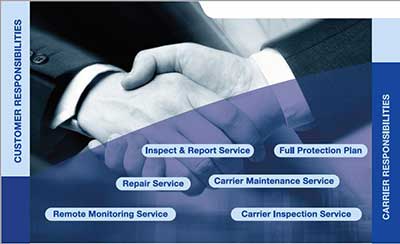 Service Agreements
Customized service agreements and options for all types of equipment and control systems. Customers choose only those services required to meet their unique operating conditions and budgetary levels. Benefits of Service Agreements
Extended equipment life
Reduced operating and energy costs
Optimum equipment performance
Limited downtime
Full coverage, maintenance, repairs, parts
Planned, fixed expenditures
Custom agreements provide optimal efficiency and reliability, plus peace of mind. We offer a clear approach to service: a customized plan that is tailored to your facility, the particular equipment you own, and your performance and financial goals.
Predictive Maintenance
Your building's systems seem to be running fine. There aren't too many complaints about lack of comfort. Energy costs keep inching up, but that's not unexpected. There are no clear signs of problems.
Perhaps your systems are sound. But are they operating with maximum efficiency to minimize energy costs? Are there hidden problems that could lead to costly repairs and downtime? Could there be indoor air quality problems? Have changes in the building configuration made system modifications necessary?
The longer your building's systems have been in service, the greater the probability your costs are higher than they should be. Fortunately, there's an easy, cost-effective solution: predictive maintenance by Carrier Commercial Systems and Services.
With predictive maintenance, you'll know about potential problems before breakdowns occur. That brings you the luxury to schedule repairs before they become more costly — and at times when they won't inconvenience you or your building's occupants.
Using today's best testing tools and technologies, we can discover or rule out virtually any kind of hidden building system problem. As a result, we can help you:
Find, identify, and correct minor problems inexpensively, before they lead to more complex and expensive repairs
Avoid needless downtime and inconvenience or discomfort to occupants
Ensure continued production when equipment is used in process application
Control energy costs
Prolong equipment life, deferring replacement expense
Prevent overtime costs for unscheduled repairs.
In short, Carrier predictive maintenance is the key to optimal building systems management. With it, you can make the most informed decisions and achieve the lowest overall operating costs.
Application
Carrier and all major brands of water-cooled and air cooled chillers
Packaged unitary equipment
Air handling units, split-systems
Cooling towers, pumps, boilers
Control Systems
Certified Technicians
Carrier technicians are certified as Carrier Experts - each trained on Carrier products, Customer Service and periodically tested to our standards.
Customer Service
When you partner with us, you'll work with recognized HVAC professionals – all with a clear focus on the importance of every aspect of your investment. Your decision to select Carrier was an important one… as is our relationship with you. We take both very seriously
Safety Focus
Environmental Health and Safety (EH&S) is rooted in our culture. We support a multifaceted EH&S management system which ensures a focused approach to safety every day. On all levels, we adhere to the most stringent safety standards, which translates to safety on your job site
Even the best maintained equipment can encounter an unexpected failure. As Carrier's own servicing entity, we have access to the latest engineering advancements and the most advanced technical servicing tools. Translation: we'll be there whenever you need us… 24/7/365. Centralized service dispatch and technician tracking ensures immediate response to unplanned service events. Our service expertise extends well beyond our in-depth knowledge of Carrier equipment. We have decades of experience servicing all major HVAC brands of equipment. Simply put – we bring an unmatched level of technical confidence to each and every repair situation
Benefits
How can Carrier's Repair and Emergency Services provide value to you? It provides:
24/7/365 support - You can always reach Carrier - round-the-clock access translates into uninterrupted service at your facility
Rapid response means faster response and minimal downtime
Carrier's certified technician expertise translates to quick and accurate resolution of emergency repairs
Expert advice from the industry leading Service company
Application
Carrier and all major brands of water-cooled and air cooled chillers
Packaged unitary equipment
Air handling units, split-systems
Cooling towers, pumps
Control Systems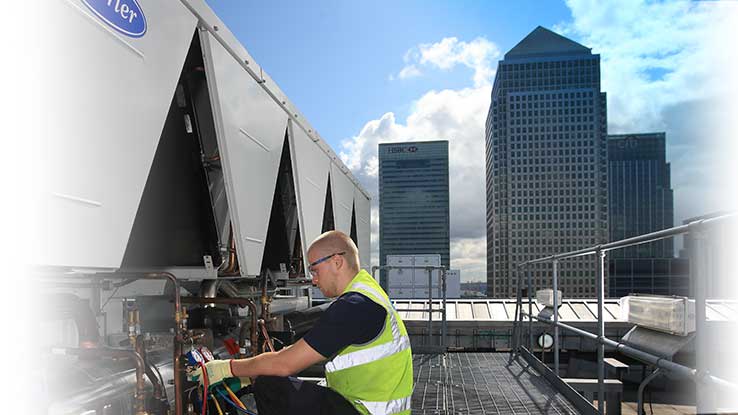 We have 360 Degree solution for Carrier and non-Carrier brands. We start journey with Carrier owners from the day they put foundation for their dream projects and buildings, villas by providing Carrier HVAC equipment with Startup, Warranty Support, Maintenance, Emergency needs etc.
As a complete solution provider we provide Turnkey solution for renovation of facilities and replacement of all types of HVAC equipment with Carrier HVAC for villas, office building, Commercial complexes, factories, warehouse etc. This covers replacement of Carrier or non Carrier HVAC equipment to brand new generation Carrier units along with deemed necessary electromechanical works.
In case you have old Carrier equipment, we provide solution with Modernization of unit with all necessary replacement or repair of components to make it compatible to suit new controls and its integration.
Application
Carrier and all major brands of water-cooled and air cooled chillers
Packaged unitary equipment
Air handling units, split-systems
Cooling towers, pumps, boilers
Control Systems
Carrier Residential and commercial equipment represent today's most advanced technology. To ensure that you receive the full benefit from this leading edge design, proper start-up, following a rigorous, factory-defined set of procedures is essential. Correct start-up is the key to optimum performance, safety and reliability, not just during the first days or weeks of operation, but for years to come.
Carrier also guarantees its product against manufacturing defects through a very strong warranty policy that ensures to delight the customer and to remove any worries about the equipment after installation, and start up, for any inquiries about Carrier Warranty Policy please feel free to contact our customer service call center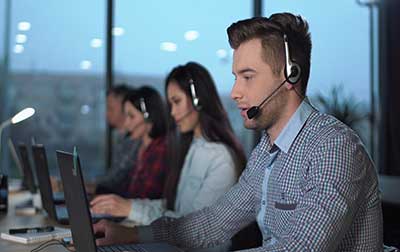 To access to the warranty claim portal to send warranty claim click here Carrier Kuwait Warranty Portal
After this strong start, your Carrier system is protected by a powerful new-equipment warranty, a warranty that reflects our confidence in the performance, reliability and durability that Carrier builds into every machine. This superior coverage does not have to end when your new-equipment warranty expires. With a Carrier optional Extended Warranty, you can continue to provide your HVAC system with this exceptional level of protection — easily and economically for years to come. Carrier Start-Up and Extended Warranty Services deliver precisely the continuous protection that your facility needs. Take advantage of these powerful management tools and experience the peace of mind that can make managing your facility easier
Carrier Kuwait has digitalized the warranty claim process to allow the customers to place the warranty claims online with minimum efforts,
How can Carrier's start-up and extended warranty protection provide value to you?
It can:
Reduce risk of unexpected equipment downtime with proper equipment start-up
Simplify short and long-term budgeting with planned extended warranty
Asset protection to ensure long equipment life
Carrier's start-up and extended warranty protection service applies to:
Residential and Light commercial systems
Packaged Air condition Systems
Carrier water-cooled and air-cooled chillers
For any inquiries about Carrier Warranty Policy and Procedures please contact Customer Service Call Center on below contacts
Telephone: +965 2 2066300
Email:

[email protected]
Submit Warranty Claim
Carrier Rental Systems has many years' experience supplying temporary cooling systems to offices and commercial buildings, providing clients with flexible, cost effective and high value solutions. All projects are supported by a complete service from equipment installation, service & maintenance cover and decommissioning on completion.
Carrier Rental Systems can provide temporary chillers when you need them, with large products ranging which enables you to use Carrier Rental Systems as a way to obtain additional cooling for your business on a rental basis with no capital cost.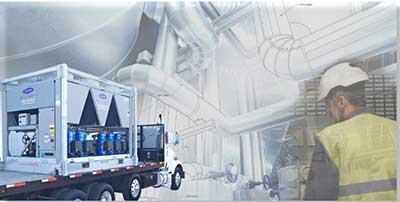 All equipment is easy to install. Things are made even simpler by the fact that Carrier Rental Systems can look after all elements of the installation for you.
Carrier Rental Systems is a key division of the Carrier Corporation which means that all the benefits of the worlds leading refrigeration company are available on a short or long term rental basis.
Quality of equipment and personnel, constantly enforcing health and safety systems and having a real interest in the care of the environment are all a high priority within Carrier Rental Systems.
These measurable criteria along with constantly delivering a high level of service ensures the company continues to provide high quality rental cooling packages to a wide range of critical applications worldwide.
Anti-Corrosive Protection for Heat Exchangers – Blygold
This system is part of revolutionary concept designed to prevent corrosion and stop unnecessary capacity loss on heat exchangers. The system consists of a chemical conversion layer and a finishing coating. Blygold corrosion Protection will ensure performance of the heat exchanger over time and prevent the increase of energy consumption.
Indoor Air Quality – UVC
The UVC energy emitted by these devices typically destroy more than 90% of flu viruses and other microbes with each air change.
Eddy Current Test for Condenser and Evaporator tubes
Eddy current test inspection is one of several NDT methods to check integrity of tubes. It helps you to predict tube failure in advance to avoid any major breakdown and future huge repair cost.
Oil Analysis
Routine oil analysis can show the health of your chiller. Recommended on all compressors that use oil for lubrication.