---
AquaEdge™
19DV
Water-Cooled Centrifugal Chiller
500 to 800 nominal tons
THE AQUAEDGE® 19DV WATER-COOLED CENTRIFUGAL CHILLER IS THE ULTIMATE INNOVATION IN HEATING AND COOLING TECHNOLOGY.
Every building is different. Type, usage, layout and climate all have a huge effect on heating and cooling needs, and those needs vary during different times of the year. To adapt to changes, you need a chiller that can do it all — and in ways the industry hasn't seen before. That's why Carrier has developed the 19DV water-cooled chiller with several innovative features, incredible versatility and a full-system approach to efficient cooling and heating. The result is a chiller that's so reliable, so high-performing, so future-proof that once it's installed, you may never have to think about it again.
---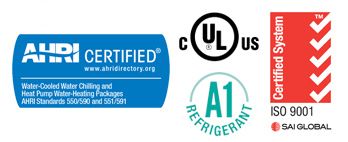 Water-cooled chillers within the scope of the AHRI WCCL certification program are certified in accordance with the AHRI Water-Cooled Water-Chilling and Heat Pump Water-Heating Packages Certification Program, which is based on AHRI Standard 550/590 (I-P) and AHRI Standard 551/591 (SI). Certified units may be found in the AHRI Directory at www.ahridirectory.org.
Performance Features
Low energy consumption during part load and full load operation
IPLV down to 0.295
R-1233 zd(E) refrigerant with A1 safety rating
EquiDrive™ back to back two-stage compressor with Independent Guide Vane Control
Refrigerant lubricated ceramic bearings
Hybrid falling film evaporator
Crescent shaped economizer
Touchscreen control panel with multilingual display
Compatible with Carrier Comfort Network® (CCN) communication link
Reliability Features
ASME constructed heat exchangers
Two-stage 500-800 tons (1758 to 2814 kW) compressor with no scheduled teardown
Semi-hermetically sealed compressor and motor
Automated controls may be tested before start-up
Air-cooled, totally enclosed variable frequency drive
Maintenance Features
Password protected extensive service menu with built-in diagnostic capabilities, troubleshooting, and corrective action recommendations for preset alarms
Alarm and alert files maintain the last 25 time and date stamped messages in memory
Configuration data backup with non-volatile memory
Thermistor-type temperature sensor with quick connects in each water nozzle
Steel single rupture disk
Service contract available
Pre-Installed SMART Service Connectivity
Factory-Installed Options
Enhanced tubing, .028 or .035 in. (0.711 or 0.889 mm): Internally/externally enhanced copper tubing – evaporator/condenser
Marine waterboxes: 150 psig (1034 kPa) waterbox
Flanged evaporator and/or condenser waterbox nozzles
1, 2, or 3 pass evaporator or condenser waterside construction
Economizer bypass valve
Modulating Envelope stability control (hot gas bypass)
Free cooling
BACnet® communications
Customer factory performance testing
Export crating
Extended Warranty (North America only)
Service Contract
Field-Installed Accessories
BACnet® Carrier translator
LonWorks® Carrier translator
Sensor package
Separate storage tank and pumpout unit
Stand-alone pumpout unit
Soleplate package
Spring isolator kit
Physical Data
Condenser Heat Exchanger Size
A (Length, Dished Head Waterbox)
19DV B
Width
19DV C
Height
1-Pass
2-Pass*
3-Pass*
ft-in
mm
ft-in
mm
ft-in
mm
ft-in
mm
ft-in
mm
G2*
15' 7.5"
4763
15' 0.375"
4582
15' 4"
4674
8' 3.625"
2530
9' 6.25"
2902
G4*
17' 4"
5283
16' 8.875"
5102
17' 0.5"
5194
8' 3.625"
2530
9' 6.25"
2902
*Assumed 2-pass nozzles on same end
Performance Features
Low energy consumption during part load and full load operation
IPLV down to 0.295
R-1233 zd(E) refrigerant with A1 safety rating
EquiDrive™ back to back two-stage compressor with Independent Guide Vane Control
Refrigerant lubricated ceramic bearings
Hybrid falling film evaporator
Crescent shaped economizer
Touchscreen control panel with multilingual display
Compatible with Carrier Comfort Network® (CCN) communication link
Reliability Features
ASME constructed heat exchangers
Two-stage 500-800 tons (1758 to 2814 kW) compressor with no scheduled teardown
Semi-hermetically sealed compressor and motor
Automated controls may be tested before start-up
Air-cooled, totally enclosed variable frequency drive
Maintenance Features
Password protected extensive service menu with built-in diagnostic capabilities, troubleshooting, and corrective action recommendations for preset alarms
Alarm and alert files maintain the last 25 time and date stamped messages in memory
Configuration data backup with non-volatile memory
Thermistor-type temperature sensor with quick connects in each water nozzle
Steel single rupture disk
Service contract available
Pre-Installed SMART Service Connectivity
Factory-Installed Options
Enhanced tubing, .028 or .035 in. (0.711 or 0.889 mm): Internally/externally enhanced copper tubing – evaporator/condenser
Marine waterboxes: 150 psig (1034 kPa) waterbox
Flanged evaporator and/or condenser waterbox nozzles
1, 2, or 3 pass evaporator or condenser waterside construction
Economizer bypass valve
Modulating Envelope stability control (hot gas bypass)
Free cooling
BACnet® communications
Customer factory performance testing
Export crating
Extended Warranty (North America only)
Service Contract
Field-Installed Accessories
BACnet® Carrier translator
LonWorks® Carrier translator
Sensor package
Separate storage tank and pumpout unit
Stand-alone pumpout unit
Soleplate package
Spring isolator kit
Physical Data
Condenser Heat Exchanger Size
A (Length, Dished Head Waterbox)
19DV B
Width
19DV C
Height
1-Pass
2-Pass*
3-Pass*
ft-in
mm
ft-in
mm
ft-in
mm
ft-in
mm
ft-in
mm
G2*
15' 7.5"
4763
15' 0.375"
4582
15' 4"
4674
8' 3.625"
2530
9' 6.25"
2902
G4*
17' 4"
5283
16' 8.875"
5102
17' 0.5"
5194
8' 3.625"
2530
9' 6.25"
2902
*Assumed 2-pass nozzles on same end