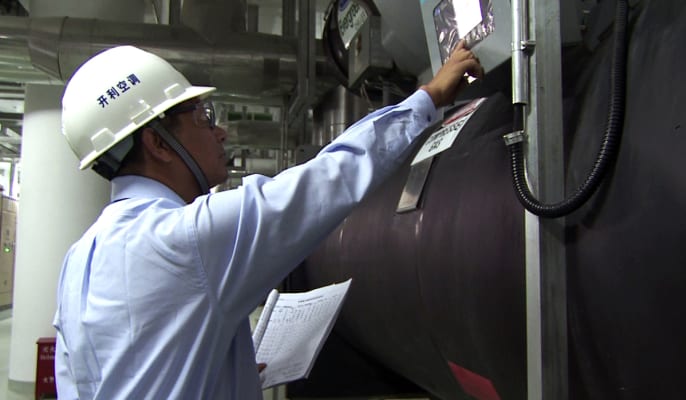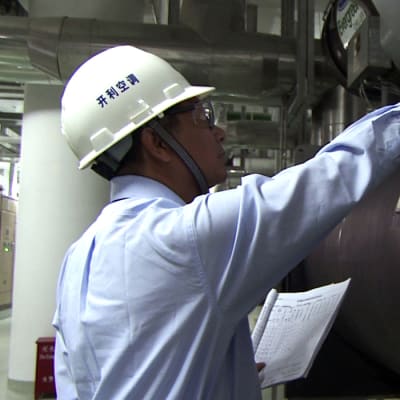 Here to support
Whether you are an engineer, contractor, architect, manager or owner, you can count on Carrier's expertise and offerings to help you get the most from your HVAC system from start-up through the entire lifecycle.
Service Agreement Benefits
We design a series of maintenance packages which are compatible with customer specification and compliant to local quality standards and legislation. The scope and level cover a combination of corrective, preventive and predictive work so we leave our customers worry-free to concentrate on their core business activities. Our pride has been in providing reliable maintaining activities with the unique direct access to factory authorized parts at competitive prices. Our customers are always highly satisfied with the increased equipment life span, optimized entire facility performance attaining higher level of operation and energy efficiency.
Custom-Built Maintenance Program
The program offers customized service agreements in line with your company's desired performance goals and KPIs. Based on these indicators, a tailored maintenance plan will be designed and implemented, followed by regular measurement and reviews. Distinctively, Carrier provides a dedicated Chiller Lifecycle Service which gives you options of monthly maintenance, annual service, overhaul program, efficiency check, diagnosis and controls throughout the entire life of your chiller.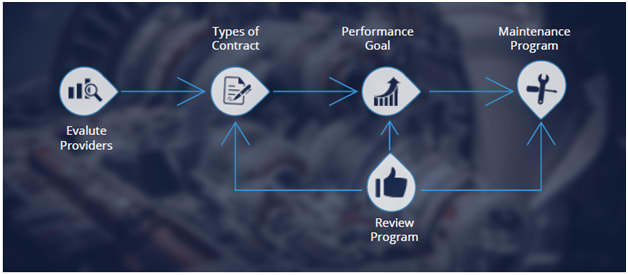 Green-based Maintenance
In a building, HVAC plant and equipment including chillers the are biggest consumption sources, which often waste energy on problems in tubes, sensors, refrigerant system, cooling towers, air filter and faulty electrical components. Carrier helps to solve this issue through combined efforts of new green building and infrastructure technologies adhering to local regulations, the powerful in-house data analytics capability and the self-diagnostic technology.
Our Service offers aim at achieving higher energy efficiency level with green-based HVAC maintenance solutions that significantly save up to 20% of energy cost in your facility.

Chiller Lifecycle Service Benefits :
Predict and prevent costly repairs
Lower operating costs by adjusting chillers for greatest efficiency
Reduce down time
Provide the certainty that the chiller is protected for a maximum life span of cost-effective service
Predictive Maintenance
When system components unexpectedly fail, you face costly downtime and in convenienced occupants. Our Predictive Maintenance solution will help you identify potential problems prior to breakdowns and proactively schedule repairs at times that won't disturb you or your building's occupants. In Carrier, we invest in the most advanced analysis tools for comprehensive and accurate building system evaluation. This allows us to discover or rule out virtually any hidden HVAC system problem, giving early notice so that your company can make the most informed decision based on our report.
Benefits :
Identify and correct minor problems before they lead to more complex and expensive repairs
Avoid needless downtime
Minimize inconvenience to occupants
Ensure continued production in process applications
Control energy costs
Prolong equipment life, deferring replacement expense
Prevent overtime costs for unscheduled repairs
Package Includes :
Building Survey and Analysis
Vibration Analysis
Thermo-graphic Testing
Eddy Current Testing
Chiller Tube and Fluid Analysis
Motor Insulation Testing
Data Tracking Analysis
Carrier Customer Portal Video
The Carrier Customer Portal is an online system to help customers successfully manage their HVAC systems and quickly connect with the Carrier team.
BluEdge Service Platform & Preventive Maintenance
At Carrier, we believe long-term partnerships are the basis of exceptional service. We'll work with you to fully understand the needs of your business. Our BlueEdge Service Platform is designed to meet your requirements and keep your equipment running efficiently. We can help you create a customized program that is suited to your specific goals and needs.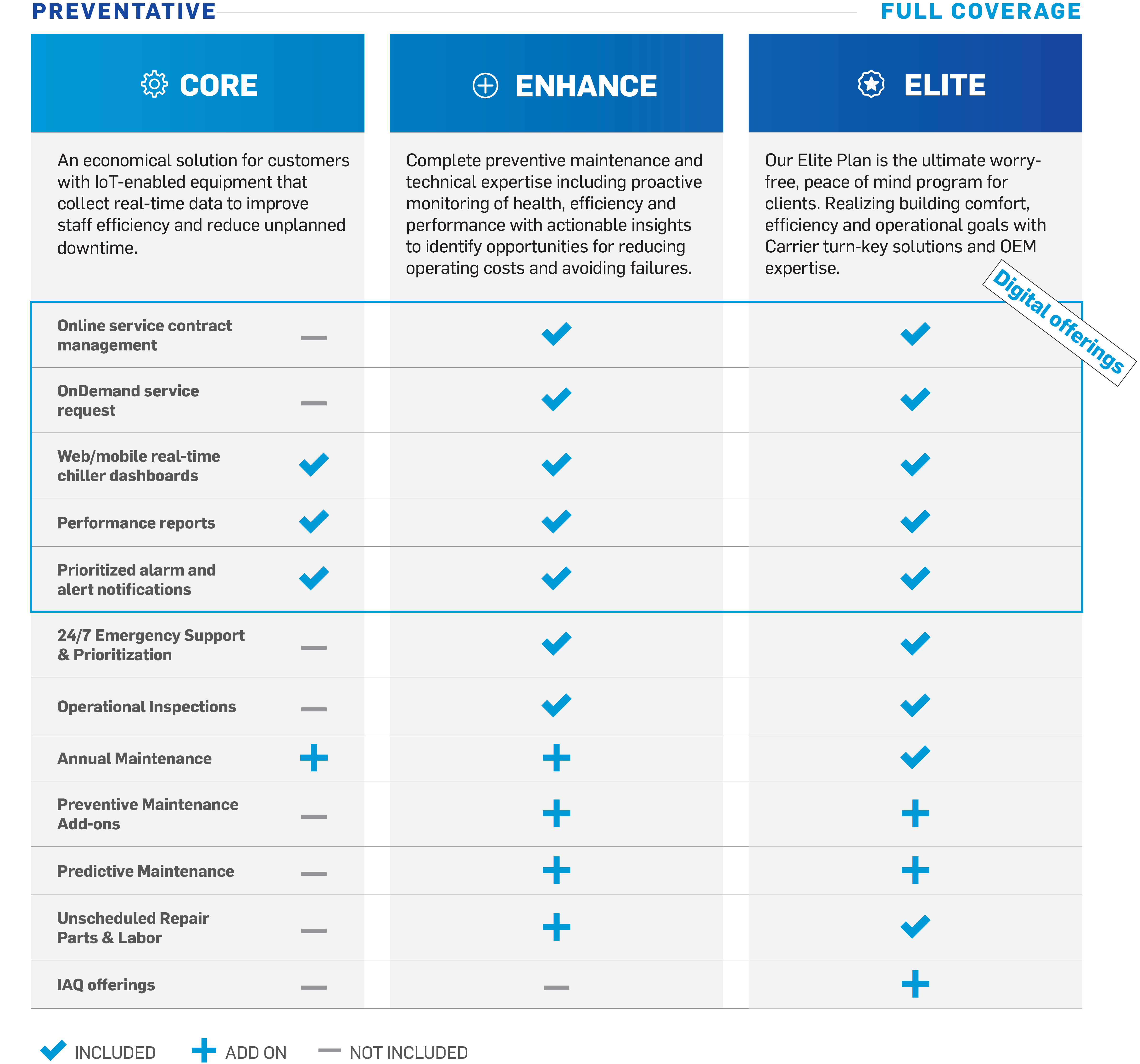 ---
We service all brands of equipment.
We have extensive experience servicing all major heating, ventilation and cooling manufacturers' equipment, as well as unmatched technical understanding of each system.
The BluEdge Service Platform can :
Ensure that your equipment is inspected regularly, operating properly and all OEM maintenance procedures are adhered to;
Maximize your equipment life, uptime and performance;
Reduce your energy costs through good preventive maintenance measures;
Provides you with budgetary certainty and allows fiscal planning with confidence;
Reduce risk of unexpected downtime with proactive service.
---
Carrier® SMART Service is a dynamic, proactive strategy for enhanced equipment and system management. Through the identification and analysis of chiller and system operating trends, more informed decisions can now be made relative to meeting comfort demands, implementing service, maintenance or repair events and improving a building's financial performance. This unique service can be included in a Carrier service agreement plan as part of a regular preventive and predictive maintenance program. This technology is also portable and can be used on a temporary basis to troubleshoot, diagnose issues and provide analysis for service recommendations
How can Carrier® SMART Service provide value to you?
It includes:
Service experts analyzing chiller health
Proactive management and budgeting of service needs
Early indication of equipment problems for faster resolution
Insight into chiller operation and trends
Mitigate risk of equipment issues
Maximum operating efficiency through analysis of key operating data
Carrier® SMART Service applies to:
Carrier water-cooled chillers with product integrated controls
Equipment Lifecycle Analysis and Overhaul
Carrier understands what it takes to keep your equipment running efficiently and reliably. All HVAC components need more than just regular servicing to maximize their performance and useful lives. No matter how well maintained, periodically, all equipment will need a comprehensive inspection and overhaul. Hence, Carrier representatives will assist you in determining strategic maintenance milestones that will lead to trouble-free equipment life.
The process starts with a detailed asset data collation using Equipment Lifecycle Analysis and assessment of plant and equipment conditions. Accordingly, our service technicians will develop an overhaul schedule that's right for your plant, at your disposal to choose the most convenient times for any planned shutdowns.
Key inspections and overhauls for the following HVAC equipment will be proactively scheduled, rather than the result of any failure
Chillers (centrifugal, screw, reciprocating and absorption)
Airside equipment (AHUs, FCUs)
General equipment HVAC systems i.e. boilers, cooling powers, pumps etc.
Typical Package Includes :
Tolerance Check
Calibration
Bearing Inspection
Oil Analysis
Shaft Alignment
Benefits :
Prolong Equipment Life
Avoid Unexpected Failures
Reduce Maintenance Costs
Discover Hidden Problems
Ensure Optimum Operation
Gain Peace of Mind
Start Up and Extended Warranty
Carrier Start-Up and Commissioning Services ensure that your HVAC system begins its service life in the best position to perform as designed and deliver years of reliable, energy-efficient conditioning. Our competent factory-trained technicians can kick start and commission large water- and air-cooled equipment. Thereafter, your Carrier system is protected by a powerful new-equipment warranty which reflects our confidence in the performance, reliability and durability that Carrier builds into every machine.
Benefits :
Reduce risk of unexpected equipment downtime, protect plant asset to ensure long equipment lifespan
Simplify short and long-term budgeting with planned extended warranty
Varied warranty coverage options to meet any budget or risk tolerance level
Repairs & Emergency Services
Our Customer Service team is available 24/7 and we commit to swiftly connect you to the requested service from standard requests to emergency. We also provide nationwide support for ordering and expediting parts for repair operations, execute service agreements that ensure timely and appropriate protection of your equipment. With direct access to factory authorized parts, Carrier can assure that correct parts are installed anytime when necessary within quickest turnaround, efficiently and cost-effectively.
Reach an entirely new level of performance without replacing your entire system.
Retrofit & Relacement
After 10-15 years, it is common that the HVAC systems has become noticeably less energy efficient. Through Carrier's retrofit and replacement services, it may not be necessary to install all new equipment while keeping up with the new requirements.
Retrofit and replacement services provide the benefits of:
Savings on capital while benefiting from new technology
Optimization of existing plant
Adaptation of plant for new products
Thus to achieve that, Carrier offers:
Central plant modernization
VFD installation on centrifugal chiller
Controls upgradation on old reciprocating, screw and centrifugal chillers
Energy management
VFD/Motor controls
AdvanTEC Solution
In today's buildings, consistent comfort and optimum energy efficiency are not amenities – they're necessities. Our patented AdvanTEC solution offers you strategic, energy efficient and custom-engineered building solutions. Through audit, design and the use of energy analysis tools, our experts will recommend high-value solutions with noted ROI that optimize your plant operation, enhance energy efficiency, system performance and environmental benefits in various applications ranging from retail to hotel chains.
Chiller Upgrades and Modernization
Following a thorough examination of your chiller's current status with your building's personnel, we collectively select and itemize the optimum upgrade solutions designed to deliver enhanced performance and efficiency.
Controls Upgrades
A Carrier controls upgrade will seamlessly integrate all your building's HVAC components to create a network that's easy to understand, monitor, regulate, and change from any location.
System Upgrades
Carrier will implement a comprehensive upgrade and modernization program designed to bring your entire HVAC system to an optimal level of efficiency and performance.
Green Building Solutions
Through its AdvanTEC Solutions Center, Carrier has developed a holistic program for energy savings in your buildings - whether it's new construction or a retrofit. It consists of numerous solutions to help hotels, offices, retail while maintaining comfort and quality. Elements of the program include:
High-Efficiency Energy Plant :
Energy plant configuration
19DV - High-efficiency full/part load Tri-rotor screw compressor chillers
Chiller Plant Management Optimization :
Chiller plant optimization strategy
Building control system integration
Hot Water Solutions :
Pre-heating of service hot water with chiller condensing water
Heat machine energy recovery
Air-cooled heat pump full heat recovery solutions
Indoor Environment Optimization :
Silent type brushless DC motor fan coil
Indoor environment optimization option