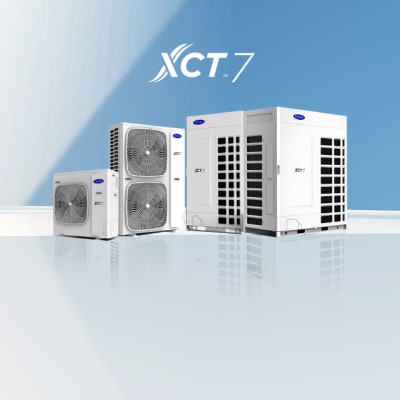 Your choice of VRF system makes a difference. When you invest in Carrier VRF, you create a system that delivers on the promise of comfort, performance and reliability - the backbone of Carrier confidence.


Ultimate reliability​
Reliability is at the heart of XCT7 conception which brings customers a total peace of mind

Outdoor condenser with advanced black-coated fin technology for enhanced corrosion resistance
Reduced liquid shock failure rate thanks to the anti-liquid shock technology of the compressor

Enhanced system performance​
The enhanced system efficiency relies of the combination of the following advanced features:
Improved refrigerant distribution balance thanks to the centrifugal oil separator
Smooth supply of lubricant with 10-stage oil return technology which protects the compressor and the system

High-efficiency​
Carrier's VRF system achieves high-efficiency in cooling and heating by utilizing:
High-efficient DC fan
Advanced DC compressor

Large operating range​
With both heating & cooling options, XCT7 units deliver comfort solutions for indoor spaces, anytime of the year.

Easy installation​
By design, Carrier's XCT7 VRF systems are user-friendly, providing easy installation and maintenance.
Easy to open the front panel
Easy access to the internal system components
Branching kit designed to fit your requirements
One button trial operation :

Saves 10% of test operation time
Test all units in one go

Incredible flexibility​
XCT7 units provide flexibility to accomodate almost any building requirement. 

Compact solution, perfect for limited space applications
Up to 110 Pa external static pressure available
Easily serves high-rise buildings up to 110m
Flexible piping layout

Wide range of options​
XCT7 units have been designed to satisfy your needs. No matter the building, application or project specifications, Carrier has a VRF solution for you. 

Single module from 4 to 26HP
4 modules combination, up to 104HP
IDU solutions for every scenario
Up to 64 indoor units per outdoor system
User friendly controller solutions