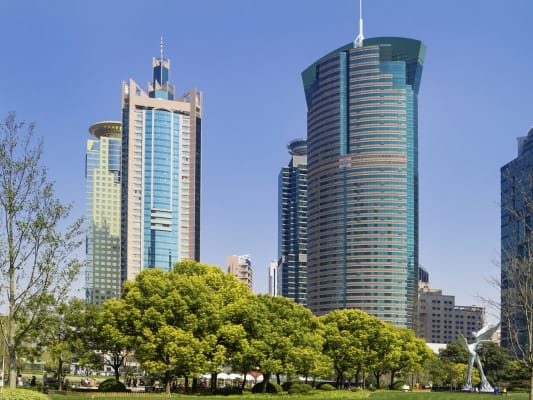 SMARTER. GREENER. BUILDINGS.
Through AdvanTEC, our teams of global experts in efficiency and environment collaborate to innovate.
The AdvanTEC Solutions Center brings together some of the world's brilliant minds and advanced resources. Together, we're developing integrated solutions that solve the issues facing building owners today and tomorrow, creating a future filled with smarter, safer, more efficient buildings.
The future of efficient buildings is changing – and Carrier is at the Center of it all.
Opened in April 2011 in Shanghai, the AdvanTEC Solutions Center gathers experts in global energy efficiency and environment protection who are dedicated to developing sustainable building solutions. Based on Carrier's core value of innovation, the Center offers clients in Asia and around the world solutions capable of achieving higher energy efficiency, greater system performance and more environmental benefits in applications ranging from hotels to data centers.
Through the establishment of the AdvanTEC Solutions Center, Carrier has enhanced its ability to offer tailored, innovative solutions including heat recovery, inverter technology, district cooling/heating, energy storage, water source heat pump systems, air terminals for IAQ and other technologies. We are even able to bring together the combined strength of other UTC Climate, Controls & Security brands to offer groundbreaking integrated solutions encompassing energy, safety and security.
When you control your building, you control your energy costs.
Plant System Manager Solution
Carrier® ChillerVu™ controller based Plant System Manager Solution delivers fully optimized control for chiller plant operations from a sophisticated, scalable native BACnet® control solution. 
Available in Asia, the new Plant System Manager Solution builds on the capabilities of Carrier's legacy Chillervisor System Manager (CSM) and the WebCTRL®/i-Vu® Open Chiller Plant Application Suite. A dedicated plant system controller with a library of factory-engineered control programs, the ChillerVu is designed to cover the most common chiller plant configurations. The scalable hardware and software architecture allows for future cost-effective plant expansion and system upgrades as improved efficiency algorithms and control methodologies are developed.
Designed to provide optimized management over the entire chiller plant, the factory-engineered control programs coordinate the management of chillers, pumps and towers into a finely tuned, cohesive system. The Carrier® ChillerVu™ controller based Plant System Manager Solution is able to control Carrier 16, 19, 23, or 30 series chillers (air- or water-cooled), and includes full integration capabilities, allowing it to monitor and control other equipment in the chiller plant, including non-Carrier chillers.
The Carrier® ChillerVu™ controller based Plant System Manager Solution quickly responds to the needs of the building by automatically starting or stopping the plant, optimizing plant water temperatures, and matching the tonnage produced to the tonnage required by the building. The intuitive WebCTRL®/i-Vu user interface provides facility managers with real-time and historical performance data for the chiller plant. In addition, pre-configured trends and alarms offer insight into plant maintenance and performance, while also providing aid in system troubleshooting.
Remote Monitoring Solutions
The remote monitoring system uses Browser/Server (B/S) architecture. The system automatically collects and stores data using pre-defined parameters. Combined with existing field services, remote monitoring can help to identify potential risks before they turn into more costly problems, providing building managers and field engineers with valuable information.
Real time monitoring to help minimizing the risk of downtime
System diagnosis and identify potential risk before they occur
Systematic analysis and professional recommendations
Energy efficiency improvement proposal
Protecting your investment
Reducing your operating costs
Intelligent Building Management System (IBMS)
Intelligent Building Management System (IBMS) is the monitoring and management system applied in the whole building. Thanks to its management function with standardized and completed interface, various subsystems could be integrated into a "organic" unified system, archiving information exchange among different subsystems and protocol conversions. Through the integrated management of all subsystems information and centralized monitoring, it enables intelligent building controls optimization and sustainable environmental management.
IBMS is based on the WebCTRL® platform from Automated Logic. WebCTRL's open architecture and support for industry standards enable the integration between third party and subsystems from UTC Climate, Controls & Security, including vertical transportation, fire &security, and hotel room management system. The WebCTRL system is capable of supporting multiple protocols over a TCP/IP network allowing many equipment items to be connected directly to the main WebCTRL backbone. By supporting the integration of systems and equipment with various standard protocols from third parties, UTC Climate, Controls & Security provides you a one-stop solution of the full set of building management systems.
In today's hotels, consistent comfort and optimum energy efficiency are not amenities – they're necessities.
Hotel Solutions
Whether it's hot water for showers or comfortable air in rooms, lobbies and meeting areas, hotel guests demand consistent comfort. At the same time, with HVAC and hot water accounting for 71% of total energy consumption in a typical Shanghai hotel, owners and managers are more concerned with energy efficiency than ever before. Fortunately, Carrier has solutions that will make everyone happy - and not to mention, comfortable.
Through our AdvanTE³C Solutions Center, Carrier has developed a holistic program for energy savings in hotels - whether it's new construction or a retrofit. It consists of numerous innovative solutions to help hotels achieve Green Hotel status while maintaining comfort, luxury and quality. Elements of the program include:
High-efficiency energy plant
Energy plant configuration
23XRV - High-efficiency full/part load Tri-rotor screw compressor chillers
Chiller plant management optimization
Chiller plant optimization strategy
Building control system integration
Hotel hot water solutions
Pre-heating of service hot water with chiller condensing water
Heat machine energy recovery
Air-cooled heat pump full heat recovery solutions
Hotel indoor environment optimization
42CN silent type brushless DC motor fan coil
Indoor environment optimization option
Beyond HVAC and hot water solutions, the AdvanTE³C Solutions Center is also able to offer fully integrated, energy saving solutions which include lighting, access control, security and more, by bringing together the resources of the other world-leading brands of UTC Climate, Controls & Security.
Data Center Solutions
Modern data centers are equipped with more computer systems, power supplies and storage resources than ever before. This equipment needs to be maintained at ideal temperature and humidity levels, demanding more powerful and precise environmental control.
At a time when data centers can easily consume as much as 100 times more energy per square meter than the average office building, customers are turning to Carrier. Through our AdvanTE³C Solutions Center, Carrier develops solutions designed to meet the specific requirements of today's data centers while reducing energy costs. These include a range of energy-efficient chillers for data centers of all sizes and Data CO₂MPLETE, our latest CO₂-based high-density cooling system.
A Carrier CO₂ system has many advantages over a traditional data center air-conditioning solution:
Designed specifically for high-density server racks, with single terminal cooling capacity of 2-35 kW
Allows cooling capacity to be adjusted to eliminate data center hot spots by matching air supply volume to cooling load
Uses environment-friendly refrigerant and an indoor direct-heat exchange to eliminate water dripping
Provides optimized airflow for rack cooling to ensure stable temperature distribution
Designed and configured for exceptional reliability and easy maintenance, allowing normal operations even when one group of terminals is shut down
Requires no floor space
Permits flexible expansion of system cooling capacity
Carrier also provides a range of intelligent network controls to enable you to monitor and control your HVAC system and other aspects of your building from anywhere, anytime.
And because the AdvanTE³C Solutions Center brings together all of the world-leading brands of UTC Climate, Controls & Security, we can offer fully integrated solutions that go beyond HVAC to include fire protection, access control, security, surveillance, lighting and more.