How Carrier Keeps It "CO2OL" for Indoor Ski Arena SNØ – Even in Summer
LØRENSKOG, Norway -
Norwegians and others who love winter sports will soon have the ability to enjoy Nordic and Alpine skiing year-round, thanks to Carrier Commercial Refrigeration's PowerCO2OL refrigeration system that is being installed at SNØ – Norway's first year-round indoor ski arena – in Lørenskog. Carrier Commercial Refrigeration is a part of Carrier, a leading global provider of innovative heating, ventilating and air conditioning (HVAC), refrigeration, fire, security and building automation technologies.
The PowerCO2OL system installation at the SNØ arena will be the largest transcritical CO2 refrigerant system in Norway consisting of three racks with a total capacity of 3,100 kilowatts, which will maintain temperatures at minus four degrees Celsius, with the ability to reach as low as minus 12 degrees Celsius, to help make it winter year-round in the ski hall.
"Carrier's CO2 system meets our need for a long-term, cost-effective solution for Norway's first indoor ski arena that will allow visitors of all ages to enjoy winter year-round," said Ing. Petter Nome, CEO, Ipnas, a consultant on the project for SNØ.
Safe and easy to install and service, the PowerCO2OL platform is suitable for a variety of large applications and can be designed as a single- or dual-temperature solution. It integrates the CO2OLtec EVO modulating vapor ejector technology as a standard feature to achieve high energy efficiency – up to 30 percent energy savings on an annual basis vs standard transcritical CO2 systems. Multiple configurations are offered including direct expansion, flooded liquid chillers, pump-assisted flooded low temperature systems and liquid-to-liquid heat pumps. The platform can be packaged in either indoor or outdoor configurations, with a cooling capacity up to 1.2 megawatts with full heat recovery. All functions are managed by a user-friendly and flexible controller.
The system uses the natural refrigerant CO2 (R744), which is a safe and non-ozone depleting gas with a global warming potential (GWP) of one. There is no additional global warming impact from potential refrigerant leaks, as can be the case with traditional systems using synthetic refrigerants with a higher GWP, since Carrier's CO2 systems use carbon dioxide repurposed from outdoor air.
SNØ is set to open in January 2020. The 36,000-square-meter snow-covered area will include a 2,000-meter cross-country trail and three 500-meter slalom slopes with a designated area for beginners. The arena aims to be a natural retreat for people of all ages and anticipates welcoming over 400,000 visitors in its first year of operation.
For additional information about Carrier Commercial Refrigeration's product portfolio and sustainable solutions, visit www.carrier-refrigeration.com.
About Carrier
Founded by the inventor of modern air conditioning, Carrier is a world leader in high-technology heating, air-conditioning and refrigeration solutions. Carrier experts provide sustainable solutions, integrating energy-efficient products, building controls and energy services for residential, commercial, retail, transport and food service customers. Carrier Commercial Refrigeration is a part of Carrier, a leading global provider of innovative HVAC, refrigeration, fire, security and building automation technologies. For more information, visit www.carrier.com or follow @SmartColdChain on Twitter.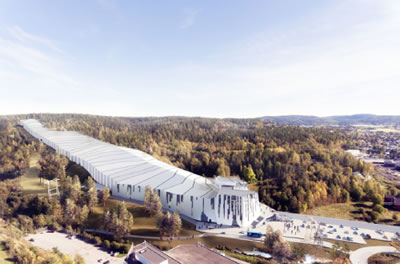 Norway's SNØ Indoor ski arena in Lørenskog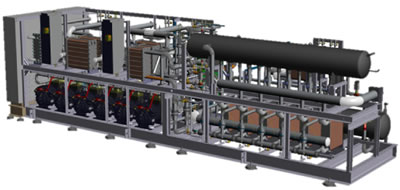 Carrier Commercial Refrigeration's PowerCO2OL system