Haier Carrier Presents Comprehensive Range of Cold Chain Refrigeration Solutions at CHINASHOP 2019
QINGDAO, China -
Qingdao Haier Carrier Refrigeration Equipment Co., Ltd. (Haier Carrier) will unveil a variety of innovative retail solutions, including frost-free technology and energy efficient modulating ejector technology at CHINASHOP 2019 in Qingdao, China this week. With its broad range of products, Haier Carrier serves as a one-stop shop for commercial cold chain solutions for businesses operating in China's retail industry. Haier Carrier is a joint venture established in 2001 by Haier Group and Carrier, a leading global provider of innovative heating, ventilating and air conditioning (HVAC), refrigeration, fire, security and building automation technologies.
Several refrigerated cabinets highlighted at the trade show carry multiple patents and new displays, helping maximize efficiency in small spaces.
The E6 Monaxis ultra-low front height refrigeration cabinet was designed for a larger opening height to highlight retail products. It also has larger storage capacity, with multiple options of openings and glass doors.
The Velando QL is equipped with high-efficiency door frames, providing energy savings of about 40% when compared to previous door frames. The unique bottom-layer pull-push basket makes replenishing product more convenient and efficient. The E6 half-height glass door cabinet has a modern appearance and invisible door frame, designed to highlight the commodity on display. The low front height design increases display area.
Innovative frost-free technology allows customers to control temperature fluctuation in the cabinet to 0.2 degrees Celsius, thus improving the freshness of food, ensuring the quality and taste of food, and helping businesses to extend the shelf life and reduce inventory loss. It is also more energy efficient, reducing operating costs by approximately 10%. The series of cabinets includes convenient features such as frost-free technology, frost-free after negative temperature technology, and frost-free lunch and ice cream cabinets.
Carrier's new CO2OLtec EVO systems with modulating ejector technology, assisted by a CO₂  pump, are performing at best-in-class efficiency levels with up to 30% annual energy consumption (AEC) reduction versus a standard transcritical system. The product has been utilized in over 100 applications, including supermarkets, convenience stores, cold storage and entertainment facilities featuring ice and snow. In China, the first CO₂ refrigeration comprehensive solution with adjustable ejectors and CO2 pumps recently went into operation in Chongqing.
"Our team is ready to meet customers' requirements for CO₂ solutions, including design, installation, commissioning and service. Our new technology is ideal for storage, food processing and sports venues under various weather conditions," said Joanne Lu (Lu Shen), managing director, Carrier Commercial Refrigeration.
The SPI+ system covers the entire series of cabinets. Compared with the previous generation, the refrigerant charge amount is significantly reduced by nearly 80%, copper pipe leakage amount by 96%, energy savings of 25%.
The medium and low temperature air-cooling and hydro-cooling all variable speed solution satisfies various business formats and is applicable to all frozen and refrigerated food categories. It requires no mechanical room and can be adjusted to various property conditions. In addition, the side and top air outlets of the air-cooled all variable speed unit is fully covered.
"With Haier Carrier's almost 20 year presence in the China commercial refrigeration industry and rich experience in multinational food retailing and new retailing segment, Haier Carrier can help businesses perform in the marketplace," said Derek Lu (Lu Difei), Managing Director of Haier Carrier China.
For more information on Haier Carrier and its products and services, visit http://www.haier-carrier.com.
About Haier Carrier (Qingdao)
Qingdao Haier Carrier Refrigeration Equipment Co., Ltd. is a joint venture established in 2001 by Haier Group and Carrier, a leading global provider of innovative HVAC, refrigeration, fire, security and building automation technologies. It is a world-class, ISO9001-certified facility producing supermarket display cabinets (more than 1,000 specifications), compressor units (scroll, piston and screw), and heat exchangers (air-cooled condenser and air cooler). It can provide customers with whole sets of freezer and refrigeration solutions such as patented D2D hot gas defrosting, Ground Source Heat Pump (GSHP) technology, HybridCO2OL® cascade refrigeration technology and CO2OLtec® transcritical refrigeration technology, both using ultra-low GWP refrigerant. The company is committed to providing advanced energy-saving systems, including CO2 refrigerant systems, for customers in the Asia Pacific region.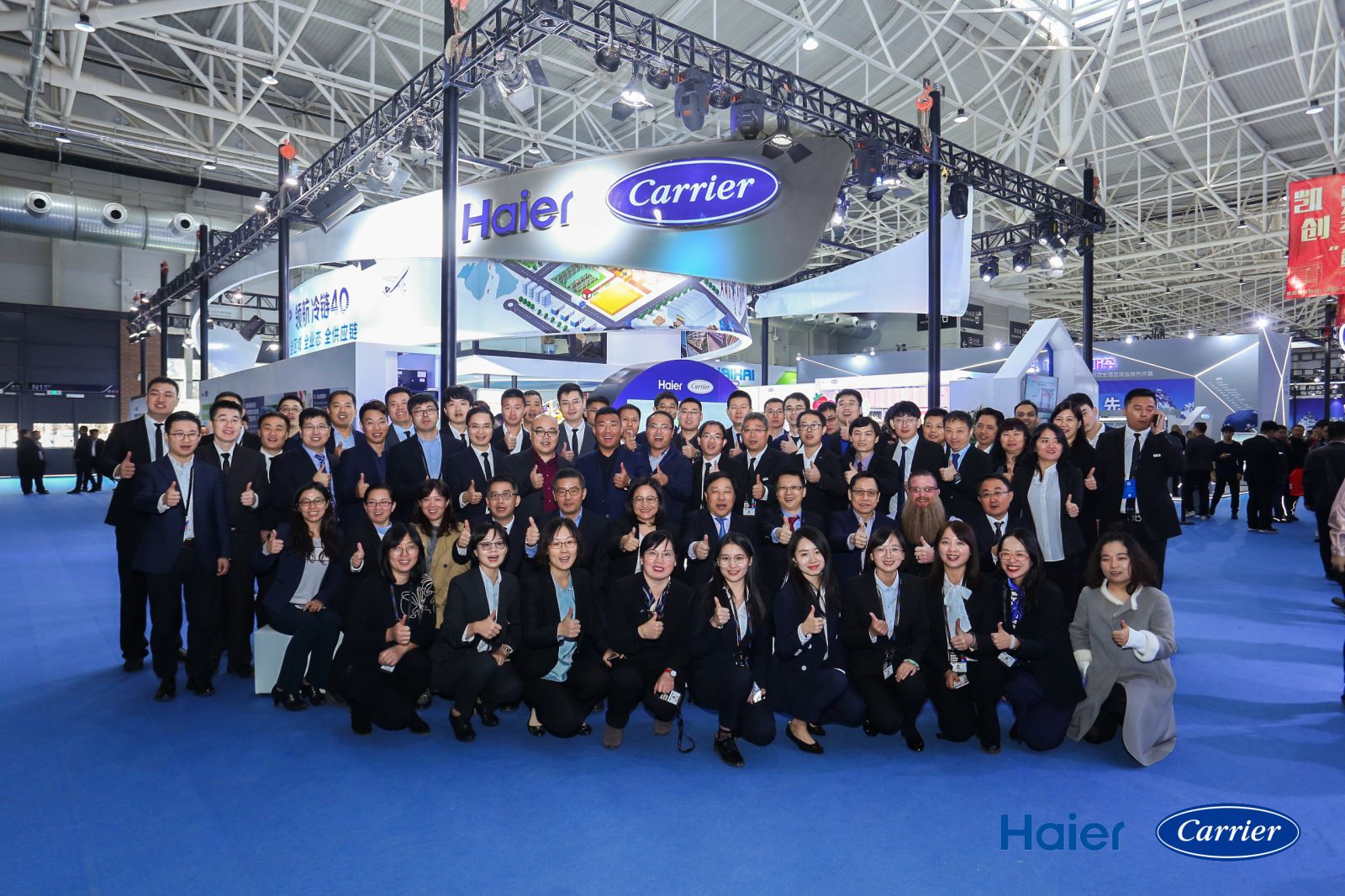 Haier Carrier CHINASHOP Employees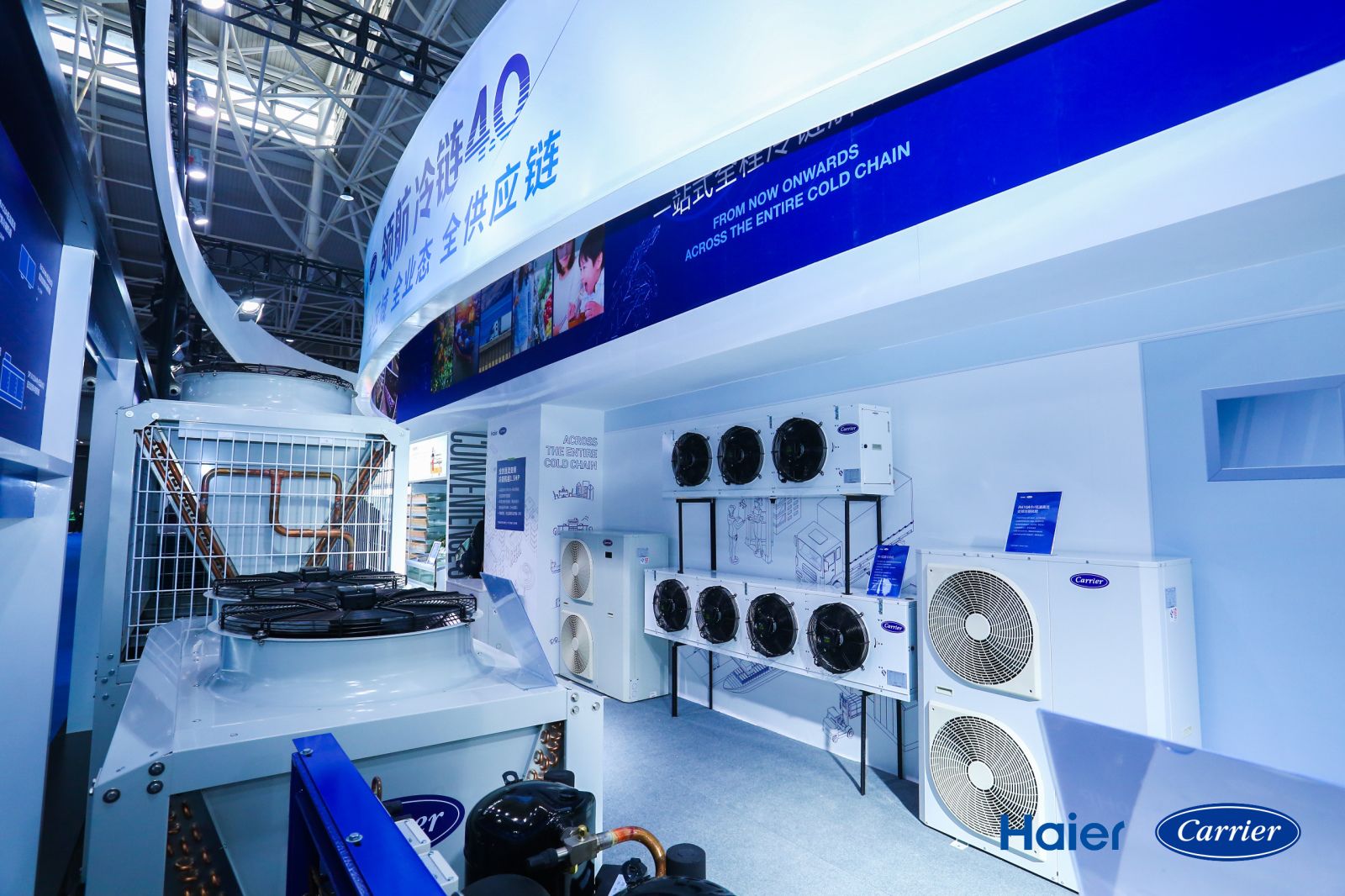 Haier Carrier CHINASHOP mechanical systems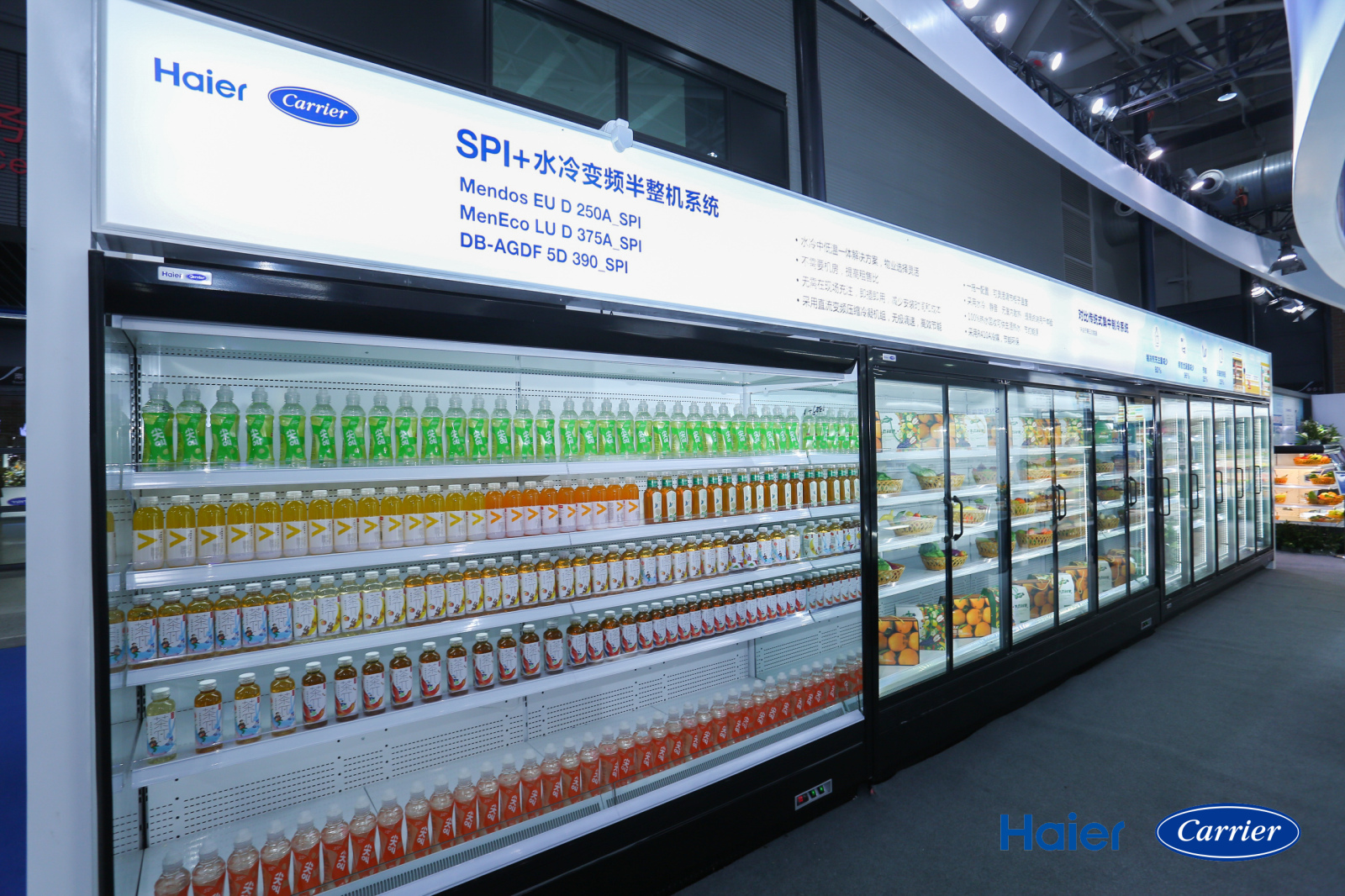 Haier Carrier CHINASHOP SPI Refrigerated Cabinets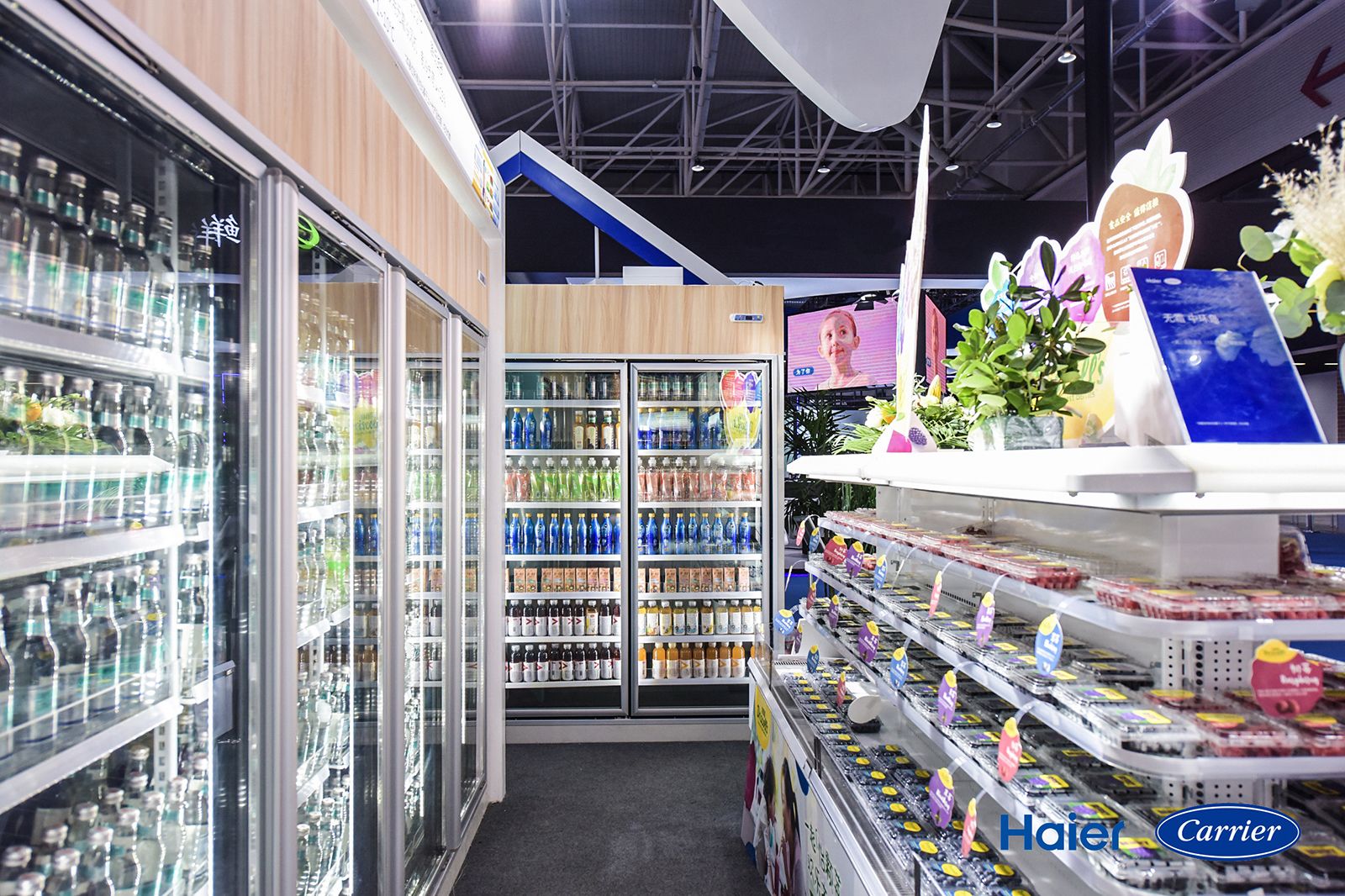 Haier Carrier CHINASHOP Frost-Free Refrigerated Cabinets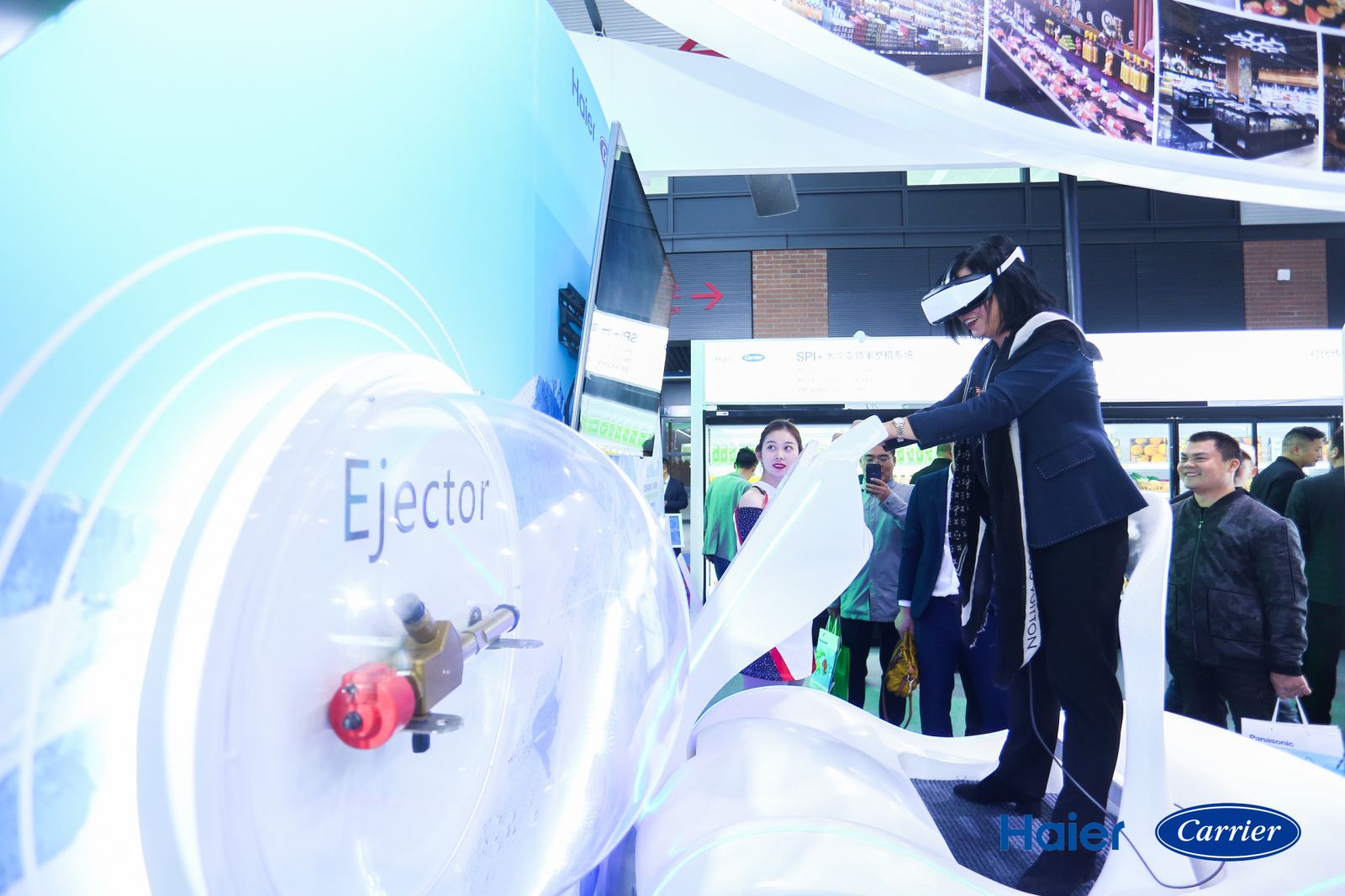 Haier Carrier CHINASHOP Visitors Participating in Virtual Reality Skiing