Carrier Champions "Green Done Easy" at its 2019 Green Building and Application Seminar
NANJING, China -
More than 100 green building professionals recently attended the 2019 Carrier Green Building and Application Seminar with the theme of "Green Done Easy." Hosted in Nanjing by Carrier China, the seminar welcomed representatives from design institutes and green building development enterprises, as well as senior experts from Carrier, to exchange ideas about green building solutions and green city construction and application in China's new first-tier cities. Carrier is a leading global provider of innovative heating, ventilating and air conditioning (HVAC), refrigeration, fire and security, and building automation technologies.
Carrier has always been committed to changing the world through technological innovation, and convening experts on urban green construction supports this commitment. Industry experts at the Green Building and Application Seminar discussed broad issues like global climate change, energy shortages and ecological environment deterioration.  And thought leaders exchanged ideas on how to support the construction of green cities and the development of green, circular economies with low carbon emissions.
Carrier makes sustainable urban design possible by delivering energy-saving technology and intelligent solutions to China, supported by a long-term commitment to training regional talents, empowering local HVAC designers and focusing on the sustainable development of emerging cities in the future.
"Since Dr. Willis Carrier first invented the modern air conditioning in 1902, we have been committed to providing customers with quality products and services, and constantly meet customer demand," said Titus Yu, managing director, Carrier Commercial HVAC Equipment, North Asia. "At Carrier, we have always insisted on integrating the concept of sustainable development into all aspects of work – focusing on sustainable development and improving the overall energy efficiency of buildings. Carrier is the only enterprise in the world sitting as a founding member of Green Building Councils in the United States, China, India, Argentina, Singapore and France."
"Carrier's customer-centric innovation is reflected in its deep understanding of local demand," said Chris Opie, vice president, Product Marketing & Platform Strategy, Carrier. "China's green industry will continue to develop vigorously. In the past few years, Carrier has launched a number of global technology-leading products in China, including the AquaEdge 19DV two-stage water-cooled centrifugal chiller using the new ultra-low GWP refrigerant R-1233zd(e) and the new flexible AquaFlow Variable Water Volume multi-connection system."
Meng Chong, an expert from the Green Building Research Center of the China Urban Science Research Association, delivered a keynote speech. Meng introduced several major policies to promote the development of green buildings and green eco-city standards, as well as the main changes and characteristics of national and industrial standards around green building to be promulgated in China.
"As an important part of the sustainable development of urban construction, green building is imperative," said Meng. "I'm glad to see that Carrier is leading a series of seminars that will provide a good platform for technology and information exchange for the industry."
The inaugural Green Building and Application Seminar allowed Carrier's core experts to sit down with industry professionals to discuss new ideas and programs – adding momentum to the development of China's green construction industry.
About Carrier
Carrier is a leading global provider of innovative HVAC, refrigeration, fire, security and building automation technologies. Supported by the iconic Carrier name, the company's portfolio includes industry-leading brands such as Carrier, Kidde, Edwards, LenelS2 and Automated Logic. Carrier's businesses enable modern life, delivering efficiency, safety, security, comfort, productivity and sustainability across a wide range of residential, commercial and industrial applications. For more information, www.carrier.com/en/cn/ or follow "Carrier_China" on WeChat.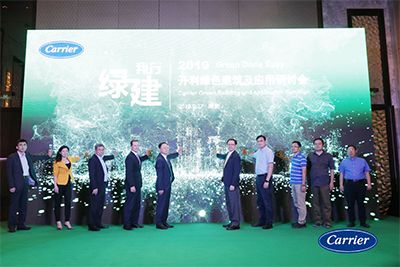 The opening ceremony of the Carrier Green Building and Application Seminar; From left to right: Zhu Shijun, Cissy Wang, Eric Ng, Chris Opie, Jiang li, Titus Yu, Meng Chong, Xiao Zhuoping, Tang Chaoqun, Zhang Xiaosong