Cooled With Carrier High-Capacity Cold Storage Refrigeration Systems Powered by CO2

Cooled With Carrier High-Capacity Cold Storage Refrigeration Systems Powered by CO2

Cooled With Carrier High-Capacity Cold Storage Refrigeration Systems Powered by CO2

Cooled With Carrier High-Capacity Cold Storage Refrigeration Systems Powered by CO2
Previous
Next
Cold Storage
Carrier Commercial Refrigeration is a leading supplier of high-efficiency refrigeration systems and services. More than 15 years ago, Carrier pioneered the use of CO2 for food retail refrigeration and has been advancing its leadership in this area ever since, producing more than 20,000 CO2 racks until today, while expanding into cold storage applications.
We have leveraged advanced manufacturing processes, patented components and new materials to make CO2 an efficient technology to refrigerate a wide range of high-capacity applications: distribution centers, warehouses, food processing, sport venues or heat pumps.
Our experience to date on a wide variety of applications confirms that the use of CO2 in high scale refrigeration is a best-in-class technology to significantly reduce energy consumption while ensuring a sustainable cold chain.
Discover Carrier High-Capacity Cold Storage Refrigeration Systems Powered by CO2!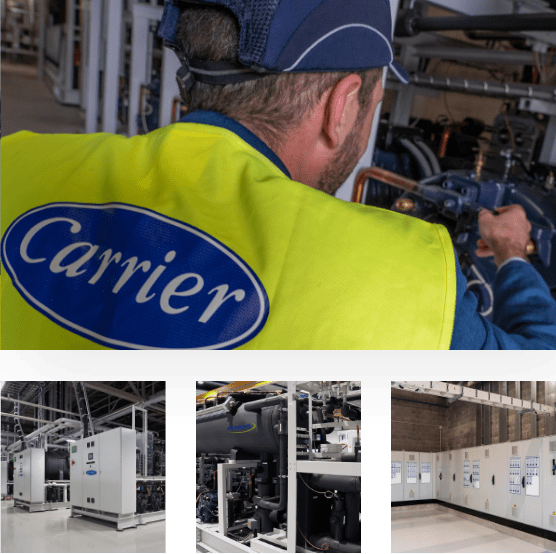 CO2OLtec® Evo
The Carrier CO2OLtec®Evo system represents one of the industry's most energy efficient and environmentally sustainable solutions for refrigeration, thanks to our patented modulating ejector technology and a CO2 pump.
Perhaps most impressive of all, CO2OLtec®Evo helps customers achieve this impressive level of sustainability while maintaining optimal performance and reliability, and reducing energy costs by an average of 30% versus standard transcritical technology.
Heat recovery
Producing cold…and heat at the same time! Carrier's CO2 technology allows for full heat recovery to further impact energy optimization and carbon footprint. Up to 100% heat recovery on the PowerCO2OL system, representing 2 MW of free heat, can be used for sanitary water, air-conditioning, building heating and even district heating – with 4 levels of heat recovery (up to 85°C, 45-60°C, 15-20°C).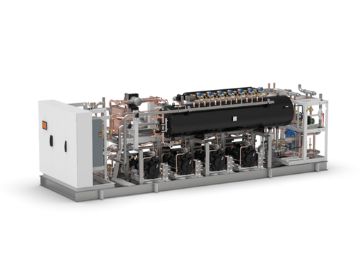 PowerCO2OL is Carrier's most powerful refrigeration rack, combining sustainable CO2 refrigeration with energy efficiency that can achieve up to 30% energy savings.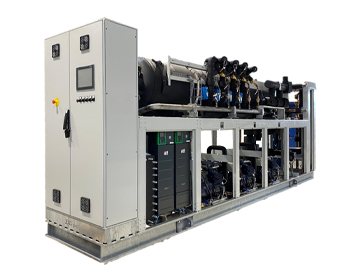 PowerCO2OL Heat pumps can value both natural and wasted heat sources to offer sustainable energy solutions for multiple heating applications.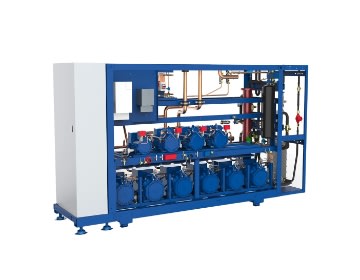 The MaxiCO2OL Compact range of refrigeration racks provide sustainable and energy-efficient refrigeration solutions for medium to large warehouses.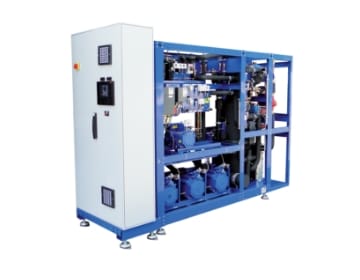 The MiniCO2OL® Compact range of refrigeration racks utilize natural refrigerant carbon dioxide (CO2) to provide sustainable, energy-efficient refrigeration solutions across a wide range of cooling capacities for smalls distribution centers as well as small to large store formats.
Our projects
Take a closer look on how our unique cold storage refrigeration systems powered by CO2 are supporting customers across the world achieve sustainable and efficient high-capacity refrigeration.
We operate in more than 20 European countries and continue to gain ground on a variety of large capacity refrigeration applications.
Stay in touch
COLD STORAGE
Want to know more? Get in contact with our specialists. We will be happy to provide more detailed information.